The Midway Postcard Gallery Volume 3 September 2010
Due to the large number of cards I have in my collection, I have decided to start showing 8 amusement, and two alternative cards each month. Fresh from our visit to California over the past two months, this month we'll be speeding through two different states, Colorado and Connecticut.
First up is an early chrome back card postmarked 1907 or 1917, it's difficult to tell. One of my favorite things about these used older cards is how they are addressed. Imagine a United States so small in population, that a postcard marked only Miss Ruby Fleming Mt Olive Ill would be delivered. This card shows the Tickler ride at Lakeside Park in Denver, CO. This park is still in operation, and is really beautiful with it's period 1930's Art Deco buildings and ride platforms. The Tickler is sadly not still in operation. As you can see, it's a simpler version of a Virginia Reel ride as seen in installment two of this series. Clearly these rides must have been rough as you are basically inside a spinning checker as it makes it's way down a pegboard. I also love the period dresses on the ladies waiting to ride.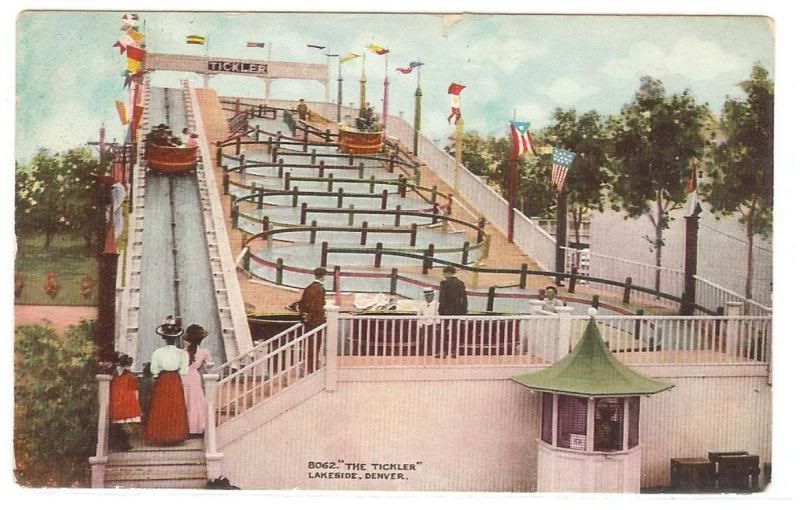 Next up is another card from Lakeside, this one a linen card from the 1940's showing the amazing art deco exterior of the Cyclone roller coaster's loading platform. You can't see this detail on the card, but the wrought iron fence that you can see in the card has figural riders in roller coaster cars on it. Very nice touch. I purchased two sets of these vintage 1940's cards when I attended an ACE (American Coaster Enthusiasts) event at Lakeside about 5 years ago. They just brought out a bunch from the back. All the postcard geeks were abuzz. I think they sold them $15 for a set of 10, I sold my second set for about $6 a card on eBay, so it worked out!

Next is our first card from Connecticut, an aerial view of the park which holds the record as the longest continuously operating amusement park in America, Lake Compounce, in Bristol, CT. Started as a picnic park around the lake in 1846, rides first started appearing at Lake Compounce in the late 1890's. The roller coaster seen in this aerial, is the 1927 Wildcat, still thrilling riders today, better than ever after some re-tracking was done by the new owners within the past few seasons. This is not a real photo card, even though it appears to be, it is not on photographic paper, and is simply a 1940-s-1950's era black and white postcard.


Our next slice of Americana is from a tiny nearly forgotten park near Norwalk, Connecticut called Roton Point. This card was posted in 1915, and it is very unusual for it's time in it's depiction of an African American woman and children prominently on the card (in a non-racist manner). Also visible is the roller coaster that runs along the beach, which seems in construct to be a scenic railway type of ride common at the time. Cards from this park can sell for quite a bit of money as they are quite rare. It is difficult to find this particular card for under $25.

Although Lake Compounce is the oldest park in Connecticut, the best known was the late, lamented Savin Rock, in West Haven, Connecticut. This image is of the White City Flyer, an early coaster at the park. This is from the early 1920's. Note the section of water ride that can be seen in the foreground of the coaster.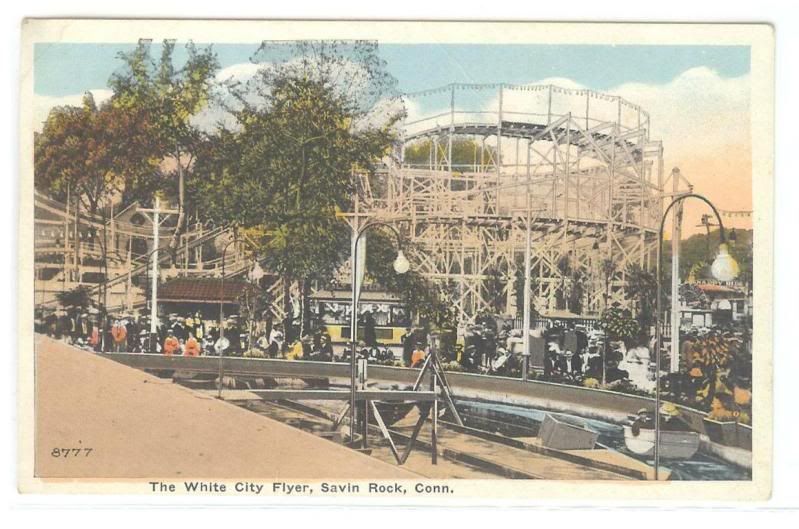 The Best known coaster at Savin Rock was the Harry Traver built Thunderbolt. Harry Traver was one of the giants in the amusement park field in the area of ride manufacture. The coasters that were built by his company were said to be some of the fiercest and most thrilling rides to ever grace the Earth. This beautiful 1940's linen card shows the Thunderbolt in all it's glory, sinuously sitting on a pier, like an alligator waiting to strike. One can only imagine what kind of ride Travers creations were, but just wait, we haven't seen the wildest ones he made yet.

These next two cards illustrate one of the things that I think are the coolest about this hobby. Because printed postcards could be reproduced quickly, major changes to the way things looked could be documented in a short time, so that the patron would be buying a card that accurately showed what the area looked like when they visited. Here is a view of the Savin Rock Liberty Pier. This card was mailed in 1927, and it was purchased on that date, because the note on the back said that "It took us an hour and a quarter to walk around here and see the place., Having a fine time." So this card accurately shows what the pier looked like in 1927.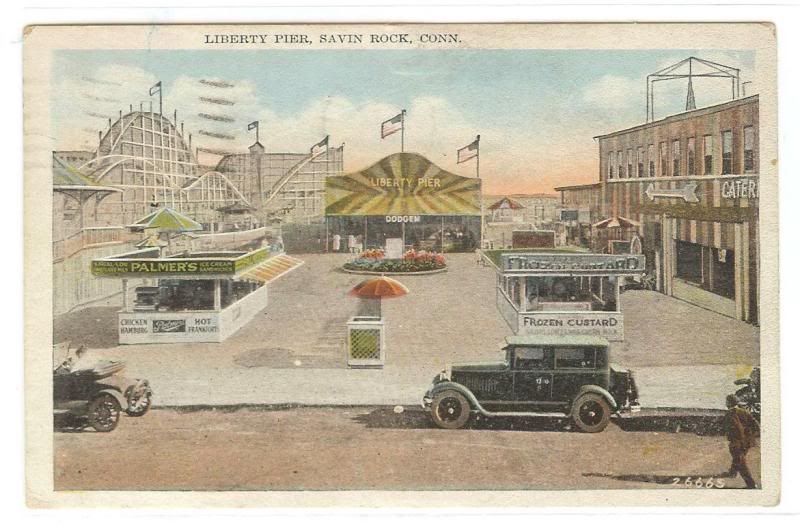 Here is another card. This card depicts the pier with the Bluebeard's Castle Funhouse attraction. A walk through fun house with tilted floor rooms, spinning discs in floors, drop seats, mirror maze, the whole bit. You would enter through one giant Bluebeard Head and exit the other. The castles are part of the attraction (notice they are NOT in the previous card). The whole pier including Bluebeard's Castle burned to the ground in a massive fire in 1932. Therefore we know that the other card was published sometime in a small window of 1928-1932. I like how the coaster and food concessions are among the only things that didn't change.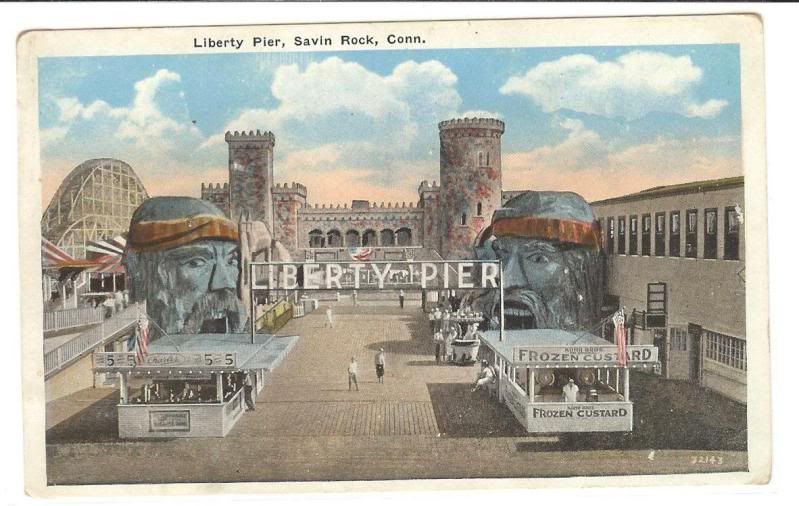 The following two images continue to illustrate my collection of sideshow performer cards, both of which feature the Doll Family. The first is a linen card from the late 30's early 40's showing all four siblings, Grace, Harry, Daisy, and Tiny. On the bottom of the card the order is wrong, it should read Grace, Daisy, Tiny, Harry.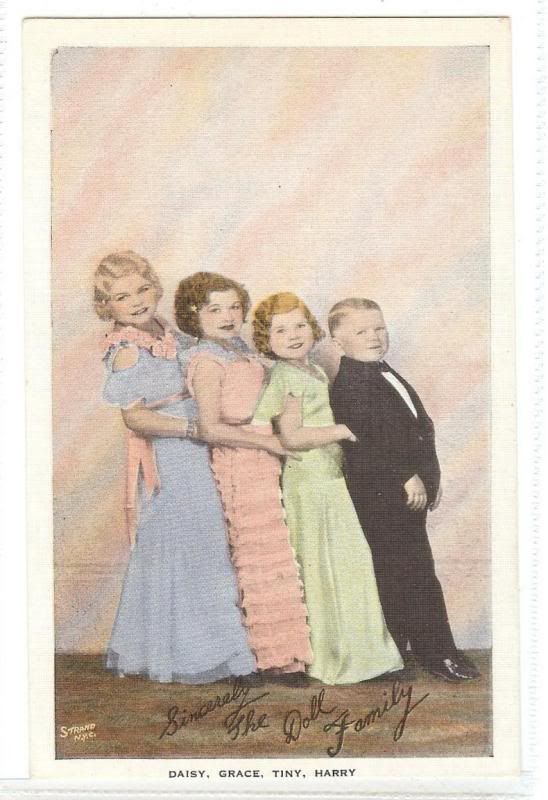 The second card is a much rarer image of the two most famous of the Doll Family, Grace and Harry, co-stars of Tod Browning's Freaks. Born with the real last name Schneider, the family went by the surname Doll for a while, finally settling on Earle, after performing for a Bert Earles who brought them over to the US from Germany. This real photo card (based on their birthdays) was taken sometime after April 3rd, in the year of 1923.
GLOSSARY:
The type of card will often help one judge its age, as postcard manufacture went through several phases and changes over the years. The terms below will be what I use to describe cards, and will inform you what time frame those cards are from.
Private Mailing Card: 1850's-1900 Marked on the back as such, only an address allowed on the back.
Undivided Back: 1900-1907 Most cards printed in Germany, address only on back of card, front may have space for message. All cards after 1907 are divided back, meaning both a message and an address may be written on the back
Early Chrome: Mostly German printed cards that have printing to the edges of a photographic image that's been colored or a drawn image. 1900-1918.
White Border Cards: Mostly American printed starting 1918-1930's. Generally inferiorly printed, especially the earlier ones, as American printing presses had not yet caught up with the superior German ones. Obviously World War 1 ended German dominance of the then very lucrative postcard printing market.
Linen Cards: These cards are characterized by a thin layer of linen that is glued over the paper prior to printing, giving them a non-smooth surface to the touch. 1940-s-early1950's.
Chrome Cards: Postcards like you are used to today. Printed photographs on glossy stock. These date from the mid 1950's until present, and are almost 100% of all new postcards made since the 1970's. Chrome cards prior to the 1970's are called Standard Size, which indicates the pre-1970's postcard size of 3.5 inches by 5.5 inches. Almost all postcards printed since the 1970's have been 4 inches by 6 inches or what is known as Continental Size. Since I do not actively collect continental sized postcards, all my images are of standard sized cards.
Real Photo Postcard RPPC: This is a card which is an actual photograph printed on actual photographic paper, generally made in limited numbers by small independent photographers. They may date from 1900 until present day, and can be dated approximately by the markings on the back. They are the rarest and most sought after postcards by collectors