It's the big day…!
Doopit-DOOPIT, doopit-DOOPIT…
-
Green Room
(2016):
-
Night Of The Demons
(1988):
-
The Nightmare Before Christmas
(1993):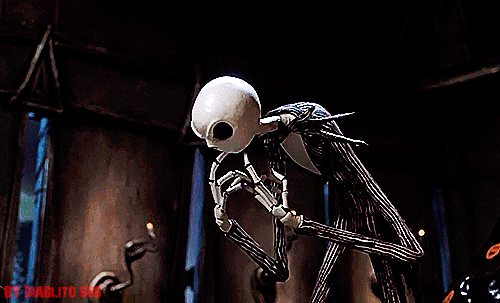 Totally random selection to see out another month's worth of shocks, shrieks and scares. 2016's
Green Room
concerns a small-scale punk rock band (played by Alia Shakwat, Callum Turner, Joe Cole and Anton Yelchin) who take a gig at a remote bar in the Pacific Northwest filled with nasty skinheads, only to witness the aftermath of a murder in the back room, forcing them to hole themselves inside and await rescue (the dead girl's friend, played by Yelchin's
Fright Night
remake co-star Imogen Poots, is also present when they barricade themselves inside) while the bar's saturnine owner (Patrick Stewart…!) calmly rallies the troops outside and starts arranging for the frightened bandmembers to quietly "disappear". Written and directed by Jeremy Saulnier (
Blue Ruin
, the current Netflix release
Hold The Dark
),
Green Room
is a tense, well-shot variation on that old horror/thriller subgenre, the "siege movie", that offers up plenty of gruesome thrills and taut situations. It's not quite a great film, but worthy of attention, especially for fans of the late, talented Yelchin.
Night Of The Demons
, meanwhile, concerns a pack of late-80's teens who arrange a Halloween-night party at "Hull House", a long-abandoned mortuary where they'll drink, dance, fornicate and, oh yeah, unleash evil spirits that will slowly take over their minds and bodies and set them against each other in increasingly gruesome ways.
Night
takes about a half-hour to really get rockin' and rollin', but once it does, it offers up an adequate collection of in-your-face, gross-out haunted house tropes, with great makeup effects by Steve Johnson. It never achieves the kind of kinetic, Jack-in-the-box relentlessness of any of Sam Raimi's
Evil Dead
films (which it clearly emulates), but it's sicko fun nevertheless, capped with a great, dark punchline.
Finally,
The Nightmare Before Christmas
(celebrating its 25th anniversary this year) remains one of the best Tim Burton films that Tim Burton never directed (it's actually the work of the gifted Henry Selick, who went on to make
James & The Giant Peach
and the marvelous
Coraline
). A charmingly skewed take on those beloved Rankin/Bass holiday specials of yore, in concerns one Jack Skellington (spoken by Chris Sarandon and sung – beautifully -- by composer and songwriter Danny Elfman), the Pumpkin King of "Halloweentown", a gorgeously gnarled world where it's Halloween 365 days of the year. And yet Jack grows weary of the same old shocks, so when he discovers an enticing doors carved into a tree in the forest, he opens it and tumbles into the colorful eye-candy paradise of "Christmastown", where he conspires – with the most noble of intentions – to kidnap "Sandy Claws (Ed Ivory) and allow him to take a vacation day so he can take his place delivering his own conception of delightful Christmas gifts (this crackerjack sequence, with Jack's deeply-misconceived "presents" running amok, makes me laugh harder and longer than any other in a Burton movie). Beautifully-animated, and set to a series of witty, wistful Elfman songs,
Nightmare
is the ideal film to say goodbye to one beloved holiday and pass the torch to another, and it remains one of my most cherished Halloween-time perennials. Here's looking forward to Jack, Sally and the denizens of Halloweentown celebrating another quarter-century's worth of ghoulish yuletide joy.