The mirror(s) crack'd…
-
Oculus
(2014):
Mike Flanagan's eerie haunted mirror thriller is a film that plays with past and present, "reality" and fantasy, with the cross-cutting skill of a natural-born horror master. Like a room slowly filling with nitrous oxide,
Oculus
builds its chills with slowly mounting incidents of this-isn't-quite-right, and the fact that its primary protagonist, Kaylie (Karen Gillan), is a survivor of the mirror's insidious influence and who takes a rational, scientific, carefully-thought-out approach to both proving the mirror's sordid backstory and bring its centuries-long pall of evil to a definitive end neatly sidesteps the usual grousing about, "Well, why don't they just
leave the house?!
" that scowling killjoys always drop about scary movies. Despite all of Kaylie's meticulous preparations (and they truly
are
well-reasoned and intelligent), the mirror just manages to…well,
outsmart
her at every junction of the long night she and her brother, Tim (Brendon Twhaites), spend trying to get the bottom of the deaths of their parents (Rory Cochrane, Katee Sackhoff) eleven years earlier. It's a truly effective, disorienting piece of horror filmmaking.
And, just to keep the theme going, I popped in the 1986 "Mirror, Mirror" episode of Steven Spielberg's mid-80's NBC TV anthology
Amazing Stories
. Directed by Martin Scorsese(!), it's a creepy little-half-hour exercise in paranoia about a successful horror novelist (Sam Waterston) who starts catching glimpses of a macabre, hooded figure in mirrors and other reflective surfaces. But whenever he turns around, there's nothing there…until he looks back into the mirror, and sees the figure (played by an unrecognizable Tim Robbins) again, wielding a garrote wire and getting closer, and
closer
…
It's a nifty little suspense piece, given an insistent, Bernard Herrmann-esque score by Michael Kamen and stylishly directed by Scorsese (there's a quickie locking-the-doors-and-windows montage that's like a dry run for
Cape Fear
), that falters only in the unsatisfying concluding moments. Still, it's one of the better installments of the lavishly-produced but uneven series.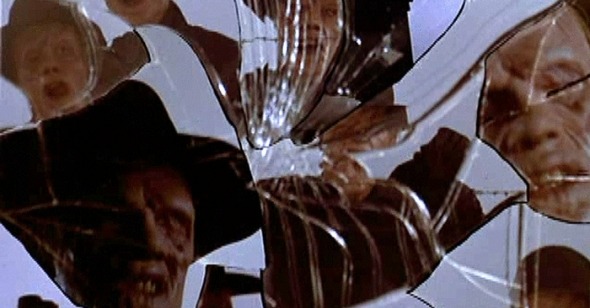 Flanagan, begin again…
-
Ouija: Origin Of Evil
(2016):
Compared to the lousy first
Ouija
movie,
Origin Of Evil
is akin to the first
Superman
movie being
Part IV: The Quest For Peace
, and the sequel being
Superman: The Movie
. Flanagan, again, directs the admittedly-familiar material with screw-tightening skill, and gets fine performances from his talented cast (including Elizabeth Reaser,
Oculus
alumnus Annalise Basso – try saying "Oculus Alumnus" three times fast! – and
E.T.
's Henry Thomas as a concerned priest). In the annals of possession movies, you've seen stuff like this a
lot
over the last decade, but rarely with such careful craftsmanship and intelligence, and Flanagan gives the film – set in 1967 – a pleasingly retro look and feel (replete with deep-focus split-diopter shots and even some faux-reel-change circles) that gives the film the tone of a classic thriller from decades past that you've just now come across.