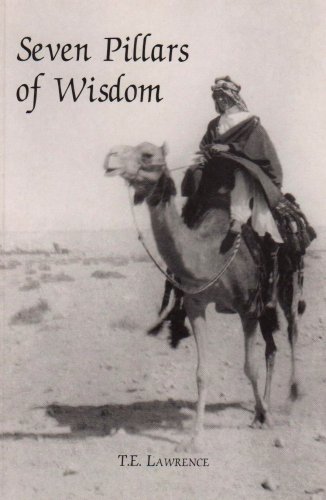 Meant to read this for years, because of the movie (of course). While many of the characters in the movie are based on the real people described here, you'd have a hard time finding one that really matched his description. The film took a
lot
of license to tell a much simpler, quicker story, and changed characters (or made them up) as necessary to make it work.
Now, that's not to say that the book is necessarily any more accurate than the movie. It's entirely filtered through Lawrence's point of view, and I know there have been accusations that he wasn't entirely honest. But he comes off as much more reluctant, much less of an exhibitionist, and much more complicit in the lies told to the Arabs as he portrays himself in the book. There's none of the conflict in the movie about his parents being unmarried (I can't remember that they were mentioned), and instead of presenting himself as the prophet-leader of the revolt, he gives lots of credit to the Arabs involved and to the other British soldiers (who are much more numerous than they were in the film).
I don't know that I could recommend it. It reads literally as an almost day-to-day record of the war. It could be that when it was being read by people who'd lived through the war, that level of detail was gripping, but it's a bit tedious now, and the constant rotating cast of people he was working with (Omar Sharif's Ali was apparently made up for the film, though there are a few different characters with a similar name) mean you've just got a long record of blowing up bridges and talking to tribesmen, with occasional digressions where Lawrence gets philosophical about how the Arabs are simpler and in some ways better than the British or how he disdains his own body. Wasn't really until the final advance on Damascus that the narrative seemed to have any urgency.
But I'm glad I read it, just to contrast the film with its source material.