Still on the first comic kick I've been on in some years now. Since the last post, I've read:
Invincible Vol. 11: Happy Days
Invincible Vol. 12: Still Standing
Invincible Vol. 13: Growing Pains
Invincible Vol. 14: The Viltrumite War
Prelude to Planet Hulk
Planet Hulk
World War Hulk
World War Hulk: Frontline
World War Hulk: The Incredible Hercules
So let's see:
I can't deny it: this series is terrific. Remove the graphic violence and this is a classic superhero comic done in the classic style, yet with a modern edge. Plenty of soap opera but not a lot of talking heads. Tons of big action. Ongoing subplots. Good humor. Real drama. Explosive art.
Every time it hits a dead spot and I think it's going to start to falter, I'm pulled right back in again.
For instance, Kirkman experimented with an ill-advised attempt to cram an entire summer "event" story into a single issue called The Invincible War. It was a HUGE crossover with all the Image heroes fighting a battle that ended up leveling entire cities. Problem was, the issue was an incoherent mess. Genuinely one of the worst comics I've ever read.
But then he followed it up with Conquest, aka Still Standing, which was a powerful, brutal extended fight that stretched for several issues. That story raised the stakes of the series, had great twists and turns, and set up a war the entire series has been building towards.
Speaking of building, this series is GREAT at it. For example, the Out of This World arc begins to set the stage for a major conflict that won't take place for another 30 issues, yet even the setup is gripping, terrific fun. Throughout he's got subplots boiling, periodic glimpses of what villains are up to, and so on, all of which keeps you invested because something is ALWAYS happening.
Kirkman takes a page from Larsen's Savage Dragon by periodically mixing up the status quo, but he does it in classic comic style. Rather than reinvent everything from the ground up, he has a big twist that shakes things up but that leaves the series recognizable.
Again, this is classic superhero stuff.
At this point I don't want to harp on the violence anymore. It's brutal and graphic, yes. During this stretch we see a little KID punch through someone's mouth and out the back of their skull, this just after he eviscerated the bad guy's partner. We also see a villain accidentally electrocute his wife and infant child - and yes, you see the sizzling, smoking, charred corpses. Oh, and we see a young woman punched through the abdomen, various aliens disemboweled, and so on.
So it can be really violent.
But at this point, I don't care. The light tone was a red herring for those first few issues, but by now the series is what it is. After 70 issues, there is no sense in complaining because you know what this book is at this point. So no point in griping about.
Especially now when the book is so damn GOOD.
I officially love this series.
The whole series has been building towards the climactic war with the Viltrumites, so you knew this was going to be BIG. There was going to be action and bloodshed and more, so when I say the ending was shocking most people are going to expect that a key character was disemboweled or something.
No, it was more shocking than that. But it's also not what you think.
The first of these two arcs is just buildup, some in-between stories until the big war. Then there is the war. Invincible and friends have their showdown against an alien race made up of nothing but people as powerful as Superman. Hard hitters, all. The pacing is kind of haphazard, but the story milestones are pretty major and it ends with a HUGE change for the world of Invincible that is deceptively quiet. I found it both bold and ominous.
Taking a break before returning to this series. Instead, switching over to Marvel to catch up on some stuff.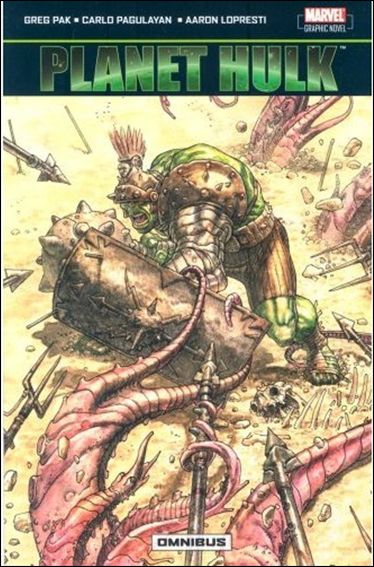 Well color me surprised. This much-praised epic from 2006/2007 actually lives up to the hype.
Tony Stark, Redd Richards, and a few others decide that the Hulk is just too dangerous to remain on the Earth, so they trick him into a shuttle and zoom him off to a distant planet. Something goes wrong, though. The Hulk goes through a portal instead and, greatly weakened, ends up on a savage planet ruled by a murderous emperor. There, the Hulk is forced to become a gladiator.
But the ghost of Spartacus rears his ugly head, and the Hulk goes from gladiator to rebellious savior of the planet.
Maybe.
There is a LOT to like about Planet Hulk. At first it seemingly strips things back to basics with a new twist, pitting Hulk up against all sorts of alien monsters. Lots of beat 'em up action.
It's more than that, though. It then plays with the uneasy balance between hero and anti-hero, and goes on to explore if the Hulk really wants nothing more than to beat things up and be left alone, probing into his deeper desires.
All this is taking place on a richly realized world. Greg Pak created a brand new, living, breathing society with a complex political landscape, interesting lifeforms, a layered social hierarchy, and a rich history. He gets this across without gobs of exposition, too. You learn through action. It's a fantastic science fiction creation.
And there is LOTS of action. Hulk ends up hooking up with some other gladiators and forms a team with them (though initially against his will). They're a haphazard bunch of weird aliens and creatures, some plucked from Marvel's past and some brand new, and all of whom you grow to like - even a Brood!
First they beat a bunch of shit up. Then there is a revolt and they beat more shit up. Then they go to war and they beat more shit up. HULK SMASH!
Pak smartly weakened Hulk, though. He can be stabbed. He can bleed. He can be killed. So at the start of this story, he's not the unstoppable force he usually is. That gives things a good sense of danger. He actually has to use courage and wits to survive some of what he goes through.
Maybe the best thing is where the story ends up going. The ending is pretty powerful and is a fantastic setup to World War Hulk. It builds to strong climax, a moment of peace, and then an explosive ending. Great stuff.
It's not without its flaws. Though the art is crisp and the storytelling solid, once in a while the writing is a bit choppy. Some guys are good at clipped dialogue. Pak isn't one of them. There are a few deus ex machina moments that would have worked better had they been set up earlier, too. Small bits of foreshadowing can help ensure big turns don't feel cheap and random.
It's most self-contained. The omnibus SHOULD have included the four Prelude to Planet Hulk issues, which would have given this story a nice clean start instead of an abrupt start. And the end, of course, leads into World War Hulk. But you'll be satisfied with just the omnibus stories.
Overall, this was just as good as people make it out to be. Some of the best Hulk I've ever read.
World War Hulk
World War Hulk: Frontline
World War Hulk: The Incredible Hercules
Following the events of Planet Hulk, Hulk be madder n' shit, so he comes to Earth with his cronies to beat the snot out of Black Bolt, Tony Stark, Reed Richards, and Dr. Strange.
And that's what he does. He beats the snot out of them, Marvel's goofy deus ex machina hero, the Sentry, is called in, there is a great big light show, the end.
I bailed out on Frontline two issues into it and skimmed the rest. The Frontline tie-ins were my favorite part of Civil War, showing the impact of that battle on everyday people through the eyes of some reporters, but it fell flat here and never grabbed me. The backups were better than the main story.
The Incredible Hercules segment is really a collection of the Incredible Hulk tie-ins, which follows an annoying kid named Amadeus Cho ("the 7th smartest person on the planet!" who can outwit SHIELD, Reed Richards and everyone else), Namorita, Hercules, and Angel as they ... I don't know WHAT the hell they did. Total yawner and totally pointless.
So that leaves World War Hulk proper. This is ACTUALLY the end of Planet Hulk, bringing that saga to a close (including an important reveal about stuff that happened there), so in some ways you really should read this if you enjoyed Planet Hulk - and you should, because it's awesome. Thing is, unlike Planet Hulk, WWH is empty. There just isn't anything here. Lots of Hulk Smash!, but none of it is exciting. John Romita Jr. does what he does, but later issues look a little rough, and the coloring is largely shitty throughout.
Thematically, there could have been a LOT to say with this story. Stuff about responsibility, consequences, revenge, ends and means, friendship, and more. Yet it says none of that. Nothing here goes anywhere interesting, and even the action is boring because it's poorly staged and poorly presented.
Epic Fail.
Take a pass.